About Katy TX
Top 10 Things About Katy TX:
Highly-rated schools
Lots of fun things to do
Many affordable homes in all price ranges
Low-risk of flooding in most areas (except those near the Addicks-Barker reservoirs on far east side)
Not in Windstorm Insurance area (such as Pearland or Friendswood)
Easy access to downtown Houston (during off-peak travel times)
Multiple hospitals to choose from
Multiple private schools available
Close to the Energy Corridor
Plenty of shopping malls and centers available
Katy TX is a very large area on the west side of Houston TX…where the counties of Fort Bend, Harris, and Waller converge. It is hard to explain to people because, technically, the incorporated "City of Katy" is only a small area of about 15,000 people. However, the "Katy Area" or "Greater Katy Area" usually refers to the entire area covered by the Katy Independent School District and various sources quote the population to be somewhere around 300,000-340,000.
According to Wikipedia, "Many people confuse Greater Katy with the City of Katy, however there is no city representation or services provided to people outside of the actual city limits of Katy. Some of this area is actually within the extraterritorial jurisdiction of the City of Houston the city of Katy cannot annex this area without express permission from the City of Houston. This has occurred on several occasions in regards to relatively small tracts of land. Most recently this came into play with development of the Katy Mills Mall, which sat mostly within the City of Katy but about half was in the Houston ETJ. The developer and city of Katy threatened to build just parking lot on the Houston area depriving Houston of any real property tax value. For 1 million dollars Katy bought the right to annex the area desired."
| | |
| --- | --- |
| City of Katy (incorporated) | Greater Katy Area (Katy ISD) |
Since it is such a large area, I like to divide Katy into three major sections:
North of Interstate 10 (not covered in this guide)
South of Interstate 10 but East of Grand Parkway
South of Interstate 10 but West of Grand Parkway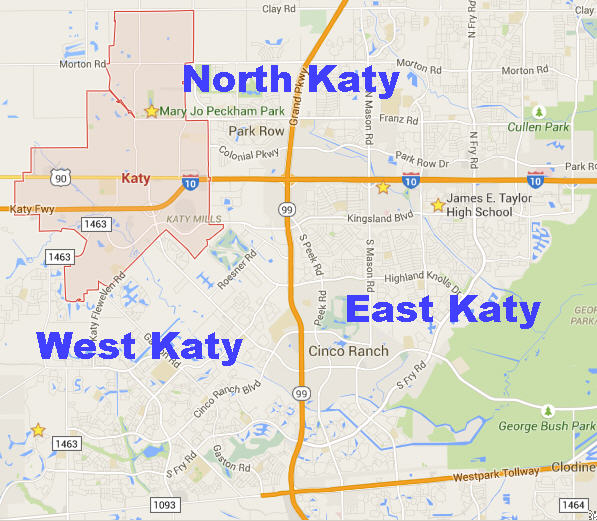 NOTE

My terms "North Katy," "East Katy," and "West Katy" are not official terms. They are just how I separate and explain the different parts of Katy to clients.
These three areas are very different in regards to the scores of the schools and the age and price of the homes. Generally speaking, the area north of I10 has lower scoring schools and, therefore, less expensive homes. The areas south of I10 both have high scoring schools, but some parts still have better schools than other parts. The east side of Grand Parkway is older, and has more mature trees (therefore "prettier" than the west side) but also has older homes that may need to be updated. These homes are closer to Houston and, therefore, have shorter commute times than the west side of Grand Parkway.
The area west of Grand Parkway is newer and so there are lots of newer, modern homes zoned to high-scoring schools. However, if you live far-west you will have a longer commute than the far-east side of Katy (to downtown or Galleria).
We could probably separate another area out: the Energy Corridor which, for now, I include in east Katy.
The area of Katy is so large that it crosses two counties (Harris and Fort Bend) and multiple ZIP Codes (see below).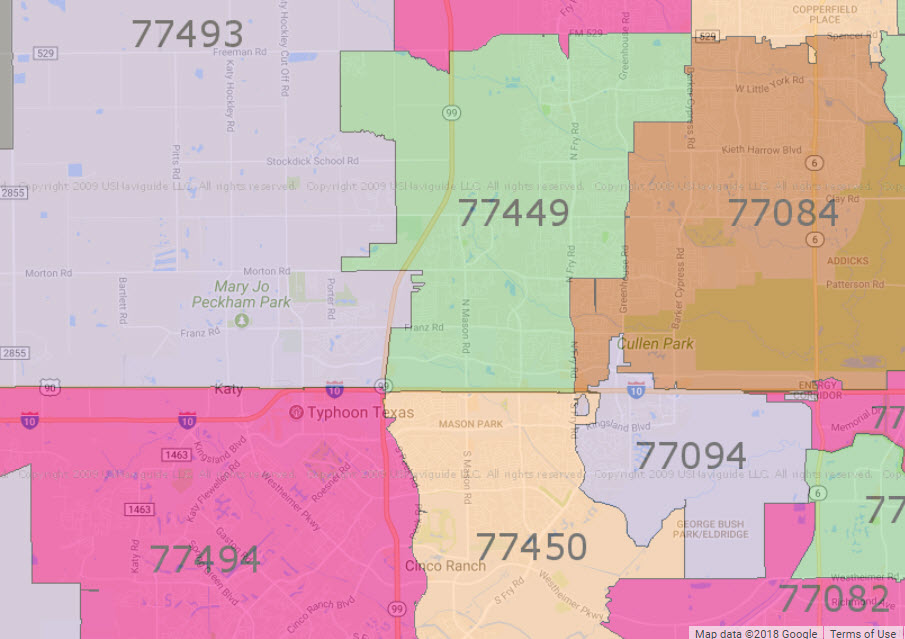 PROs and CONs
The following summarizes the PROs and CONs about Katy:
PROs

High performing schools
Affordable prices
Nearby shopping
Plenty of fun things to do
New construction homes available
Energy-efficient homes available
Beautiful neighborhoods available with lakes and mature trees
Most areas are not prone to flooding

CONs

Commute to downtown Houston during peak drive times may be more than 45 mins
Higher property taxes (to pay for top schools)
East side has older homes that may need remodeling
East side, close to reservoirs, flooded during Hurricane Harvey
Location
Katy is located on the far west side of Houston TX. The following map shows the location of Katy in relation to Houston.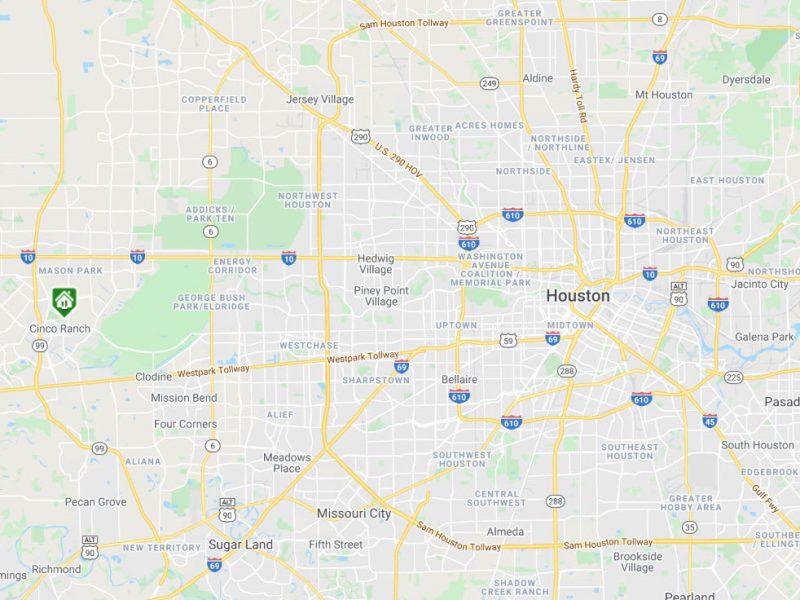 Katy Top Employers
According to the Katy Area Economic Development Council's Website (www.katyedc.org): "The economy in the Katy area is thriving and growing rapidly. Due to its growth across various business sectors, it has been recognized as one of the most recession-resistant economies in the United States. Multiple office and light industrial buildings are under construction to support the expansion in employment growth. The Katy area also has a rapidly growing employment base in both the healthcare and technology industries."
Top 25 Leading Employers in the Katy Area – 2016

Name

Size

NAICS

Product & Service

Katy ISD

8,000+

61111

Education / Public Schools

BP North America

5,000+

21311

HQ, Oil & Gas

WoodGroup Subsidiaries

4,000+

54133

HQ, Engineering, Oil & Gas

Shell Exploration and Production

4,000+

21211

HQ, Oil & Gas

ConocoPhillips

3,000+

21211

HQ, Oil & Gas

Katy Mills – Simon Group

3,000+

44211

Retail Stores & Offices

Academy Sports & Outdoors

2,900+

42391

HQ, Distribution Center

LaCenterra – Cinco Ranch

1,700+

44211

Retail Stores & Offices

Houston Methodist West

1,650+

62211

Hospital

Walmart / Sam's

1,400+

45211

Retail Stores

Amec Foster Wheeler

1,000+

54133

HQ, Engineering, Oil & Gas

Igloo Products Corp.

1,000+

32614

HQ, Distributions & Manufacturing

Worley Parsons Group

1,000

54133

Engineering, Oil & Gas

Texas Children's Hospital West Campus

1,000

62111

Hospital

Memorial Hermann Katy Hospital

1,000

62111

Hospital

Kroger

800

45211

Retail

Transocean

750

21311

Drilling, Oil & Gas

HEB

650

45211

Retail

GEICO

610

52421

Insurance Agencies & Brokerages

DNV-GL

565

54138

Testing Laboratories

Expro Americas

500

21311

Oil & Gas Field Services

Sercel, Inc.

500

33451

Manufacturing, Instrumentation for Electricity

Gulf Interstate Engineering

400+

21311

Engineering, Oil & Gas

Schlumberger – Technology Center

350+

35301

HQ, Manufacturing of Oil & Gas Equipment
Source: http://katyedc.org/Data-Demographics/Leading-Employers.aspx on April 24, 2018.
Katy Hospitals
There are at least four award-winning hospitals in the Katy Area:
Houston Methodist West Hospital
18500 Katy Fwy, Houston, TX 77094
Phone: (832) 522-5522
Memorial Hermann Katy Hospital
23900 Katy Fwy, Katy, TX 77494
Phone: (281) 644-7000
MD Anderson Cancer Center
19770 Kingsland Blvd, Houston, TX 77094
Phone:(713) 563-9600
Texas Children's Hospital West Campus
18200 Katy Freeway, Houston, TX 77094
Phone:(832) 227-1000
Katy Commute Times and Traffic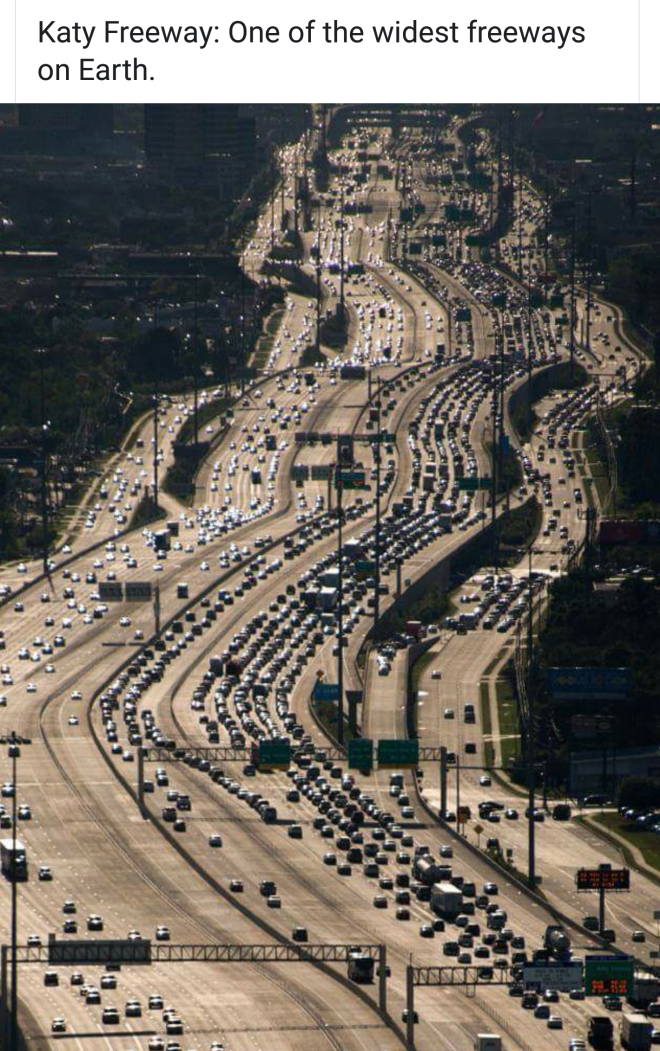 Katy is so large that commute times may vary drastically depending on where you live in Katy…and where you are commuting. You can use Google Maps to estimate drive times from various locations.
Katy has two park and ride locations if you are commuting to Houston:
21669 Kingsland Blvd
1030 W Grand Parkway
Visit www.ridemetro.org for more information about other options such as ride matching, ride sharing, METRO lift, and the HOV system.
Highway Nicknames
Katy Freeway = I-10
Grand Parkway = Hwy 99
Westpark Tollway = FM 1093
The Loop = I-610
Southwest Frwy = I-59/I-69
Northwest Frwy = Hwy 290
Commute Times
The following tables shows the estimated commute times from Katy to important places of interest. Times vary depending on route, traffic, wrecks, etc.
Place

Miles Away

Peak
Travel Time*

Off-Peak
Travel Time

George Bush Intercontinental Airport

44

55 mins

44 mins

Hobby Airport

38

54 mins

43 mins

Texas Medical Center

28

46 mins

35 mins

Downtown Houston

30

42 mins

32 mins

Galleria

23

38 mins

26 mins

Energy Corridor

13

22 mins

17 mins

Kemah

61

1 hr

55 mins

NASA

55

62 mins

50 mins

Galveston

79

1 hr 30 mins

1 hr 20 mins
*Peak Travel Time is general 7-9 a.m. and 4-6 p.m. Travel routes vary. LaCenterra address was used as the starting point.
The best way to estimate your commute time is to use Google Maps at the time you commute. Simply enter your work address and the address of the house you are interested in, and Google Maps will estimate your commute time. This time is based on the actual time you perform the search, so use it during your expected commute times.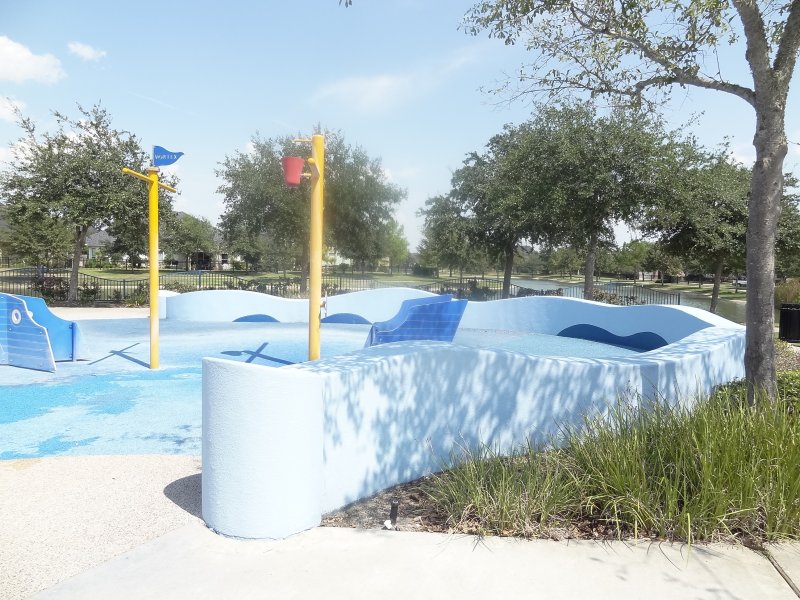 Katy Demographics
It is extremely challenging to get accurate population statistics and demographics for the Katy Area…since it is not all incorporated. According to the Katy Area Economic Development Council's Website (www.katyedc.org):
"Powered by one of the most acclaimed school districts in the state of Texas, Katy area's growth is fueled by an abundant and talented population, which is growing at of rate of roughly 5% annually.
Approximately 340,000 people reside in the Katy area and are drawn here by the Katy Independent School District (Katy ISD), which now has over 77,000 students. The Katy area is larger in population than the City of Pittsburgh, PA. Katy's past growth between the years 2000 and 2010 increased by 84%. This phenomenal growth is projected to continue, fueled by Katy ISD, energy companies and corporations, businesses and entrepreneurs. By the year 2022, projections show that over 391,000 people will call the area home.
Employment in the Katy area continues to grow at similar pace. The civilian employed population is 180,758 persons with growth projected to 217,652 persons by the year 2022 (20.4% increase). The Katy area has a low unemployment rate at 4.6%.
The demographics of the Katy area are grounded in a strong income base with exceptional educational attainment. The average household income is $127,335 in the Katy area and projected to increase to $147,821 by the year 2022. The strong income base translates to strong educational attainment above the national average, with over 44% of the population having bachelor's or graduate degrees."
Take a look at the demographics of the schools zoned to the area you are looking at if you want a more accurate picture of the area.
>> See Katy Demographics
Katy Parks and Recreation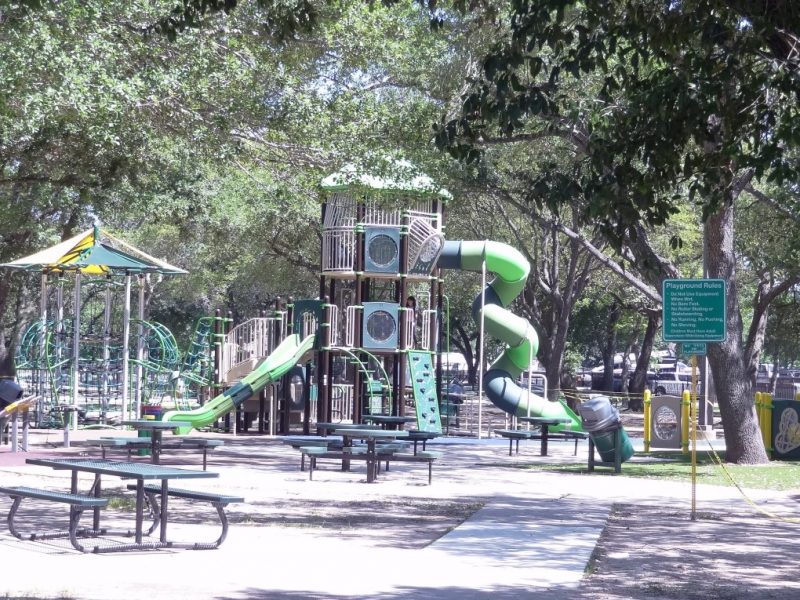 Katy has multiple parks and recreation spots including:
Dog Park
Mary Jo Peckham Park
Mary Jo Peckham Aquatic & Fitness Center
Harvest Plaza
Katy City Park
Katy Arboretum
Katy Heritage Park
Thomas Park
Veterans of Foreign Wars (VFW) Park
Woodsland Park and Community Center
These facilities are described in detail on the Things to Do in Cross Creek Ranch.
Katy Schools
One thing that is very challenging for people to understand about the Houston-metro area is that some schools districts are very large and can have BOTH high-rated AND low-rated schools within the SAME school district. Katy ISD has over 65 schools and Fort Bend ISD (for Sugar Land TX) has over 73 schools! Naturally, with that many schools, some schools are going to be excellent and some may be low-performing. Of course, some school districts are better than others, but a home can be zoned to low-rated schools even if it is in a highly rated school district like Katy ISD. This means that you can't focus on just a school district in your home search….you need to focus on the individual schools.
Also know that school ratings can and will fluctuate from year to year…generally moving up or down one point each year. For example, Seven Lakes HS was rated a 9 in 2017 but moved up to a 10 (on greatschools.org) in 2018. Some schools stay the same rating from year to year, but some may move up or down.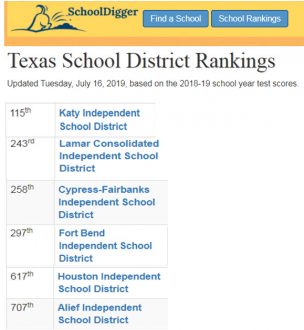 Source: https://www.schooldigger.com/go/TX/districtrank.aspx
Another thing to know…a neighborhood may be zoned to multiple elementary, middle, and high schools. So you may want to live in large neighborhood like Cinco Ranch, but just know that your home may be zoned to one of eight elementary schools, six middle schools, and four high schools…depending on which part of Cinco Ranch you live. Or if you live in Cross Creek Ranch, the east side is zoned to Katy ISD but the west side is zoned to Lamar Consolidated ISD. So within the same neighborhood, you could be zoned to two different school districts!
Also know that school zones can and will change over time….especially in new home developments. For example, when Tamarron first opened, it was zoned to Katy ISD schools but quickly got rezoned to Lamar Consolidated ISD, due to over-crowding. And if a new neighborhood builds out quicker than schools are added, then you could be rezoned multiple times…and maybe to lower-performing schools than originally expected. So be very careful about choosing homes based on their current school zones! (This is why you need a local area real estate expert, like Sheila Cox, to find the right home.)
>> See Katy Schools
Katy ISD
» See Katy ISD Info
» See Katy ISD information for newcomers
Many people move to Katy because of Katy schools and the award-winning and acclaimed school district: Katy ISD (Independent School District). Katy ISD serves over 70,000 students spread over a 180+ square mile area containing 60+ schools. As one of the largest employers in the Katy area, this school district employees over 9,000 people, including 4500+ teachers. The average teacher salary is $55,000/yr and the average student-teacher ratio is 15:1.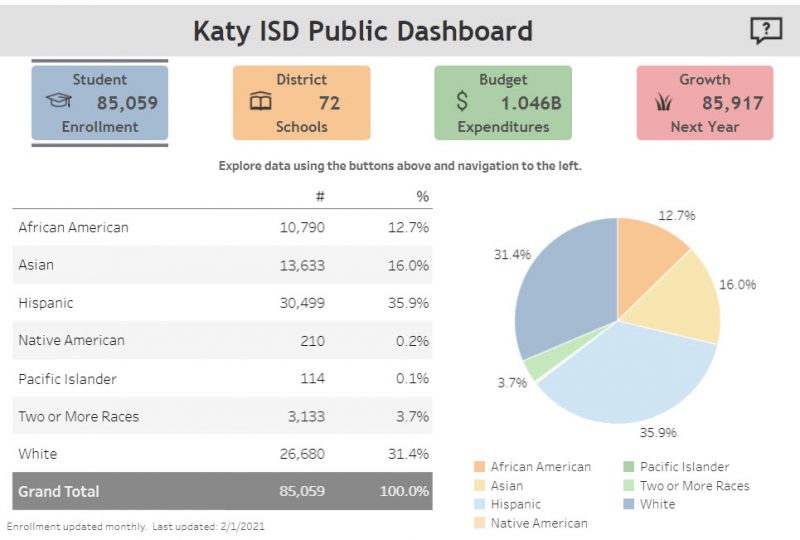 The ACT (American College Test) and SAT (Scholastic Aptitude Test) scores in Katy schools are above the state and national averages. In addition, most of the high schools in Katy have a 95-98 percent graduation rate. Two Katy high schools are among the top 100 high schools in the state: Cinco Ranch and Seven Lakes.
People often move to Katy for the excellent schools here. The above average schools (8-10) are mostly in East and West Katy…south of Interstate 10. The schools in North Katy are mostly average (4-7) according to GreatSchools.org.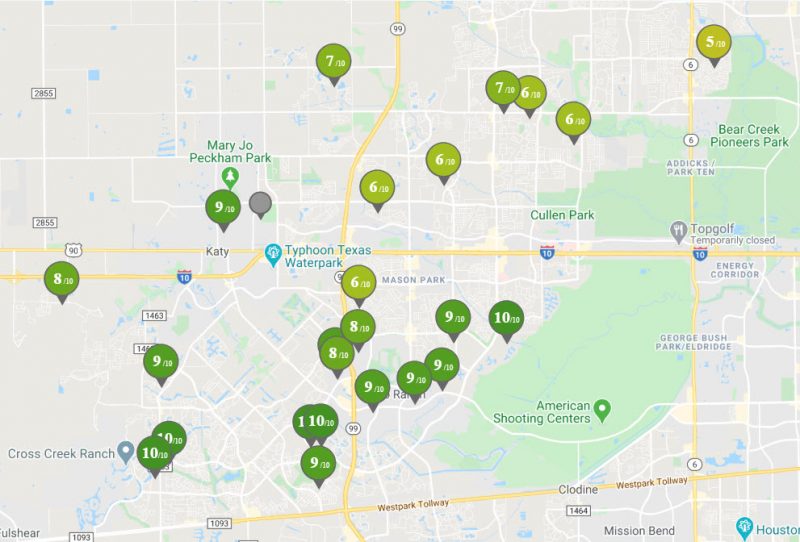 Good To Know
When you register for school you will need the following items:
Proof of residence (sales contract, lease contract, utility bill)
Official birth certificate or passport
Proof of immunizations
Report card or transcript from most recent school
Things To Do in Katy
There are many fun things to do in Katy, including:
Plus Houston area has: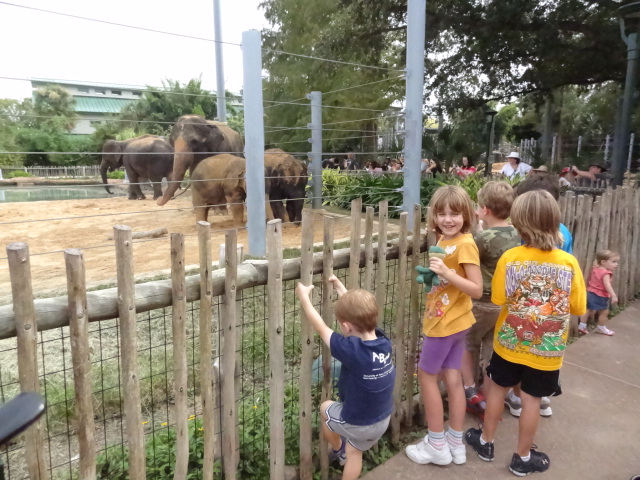 Helpful Katy Phone Numbers
The following is a list of helpful phone numbers and websites.
The following departments can be contacted directly:
| DEPARTMENT | PHONE | EMAIL |
| --- | --- | --- |
| Administration | 281-391-4800 | info@cityofkaty.com |
| Animal Control | 281-391-4740 | animalcontrol@katypd.com |
| City Council | 281-391-4800 | councilmembers@cityofkaty.com  |
| City Engineer | 281-391-4800 | planning@cityofkaty.com  |
| City Secretary | 281-391-4800 | citysecretary@cityofkaty.com  |
| Code Enforcement | 281-391-4830 | katypermits@cityofkaty.com |
| Emergency Management | 281-391-3500 | oem@cityofkaty.com |
| Fire | 281-391-3500 | fireinfo@cityofkaty.com  |
| Fire Marshal | 281-381-4080 | katyfiremarshal@cityofkaty.com |
| Fussel Senior Citizen Center | 281-391-4837 | seniorcenter@cityofkaty.com  |
| Human Resources | 281-391-4800 | humanresources@cityofkaty.com |
| Johnny Nelson Katy Heritage Museum | 281-391-4884 | travelkaty@cityofkaty.com |
| Keep Katy Beautiful | 281-391-4717 | kkb@cityofkaty.com |
| Mayor's Office | 281-391-4800 | mayor@cityofkaty.com |
| Municipal Courts | 281-391-4810 | court@cityofkaty.com |
| Parks & Recreation | 281-391-4840 | katyparks@cityofkaty.com |
| Permits & Building | 281-391-4830 | katypermits@cityofkaty.com |
| Planning | 281-391-4800 | planning@cityofkaty.com |
| Police | 281-391-4848 | kpd@katypd.com |
| Public Works | 281-391-4820 | publicworksinfo@cityofkaty.com |
| Tourism & Marketing | 281-391-4800 | marketing@cityofkaty.com  |
| Utility Billing/Trash & Recycle | 281-391-4801 | ub@cityofkaty.com |
| Visitors Center/Depot | 281-391-8400 | travelkaty@cityofkaty.com  |
County Phone Numbers
Fort Bend County Services

Animal Control

281.342.1512

Drivers License

713.465.8462     

Household Hazardous Waste Collection Sites

200 Blume Road, Rosenberg TX 281.633.7527

Tax Assessor

281.344.8623

Vehicle Registration

22333 Grand Corner Drive, Katy
281.238.1490

Voter Registration

281.341.8670

Harris County Services

Animal Control

281.999.3191

Drivers License

713.465.8462

    
Handicap Placard

713.368.2000

Harris County Clerk

713.755.6405

Household Hazardous Waste Collection Sites

6900 Hahl Rd

281.560.6200

Tax Assessor

713.224.1919

Vehicle Registration.

16715 Clay Road, Houston
713.368.2000

Voter Registration

713.368.7655

Waller County Services

Animal Control

979.826.8033

Drivers License

713.465.8462

Tax Assessor

281.344.8623

Vehicle Registration

730 9th Street, Hempstead
979.826.7620

Waller County Appraisal District

281.396.6100    

6301 S. Stadium Drive

Waller County Courthouse, Hempstead

281.391.5565

Voter Registration

979.826.3357
Katy Crime Statistics
Crime is a neighborhood, rather than city-wide issue. Crime in one part of town may be completely different than crime in another part of town. According to Sperling's Best Places, "Katy, Texas, violent crime, on a scale from 1 (low crime) to 100, is 20. Violent crime is composed of four offenses: murder and non-negligent manslaughter, forcible rape, robbery, and aggravated assault. The US average is 31.1.
Katy, Texas, property crime, on a scale from 1 (low) to 100, is 53. Property crime includes the offenses of burglary, larceny-theft, motor vehicle theft, and arson. The object of the theft-type offenses is the taking of money or property, but there is no force or threat of force against the victims. The US average is 38.1."
Source: https://www.bestplaces.net/crime/city/texas/katy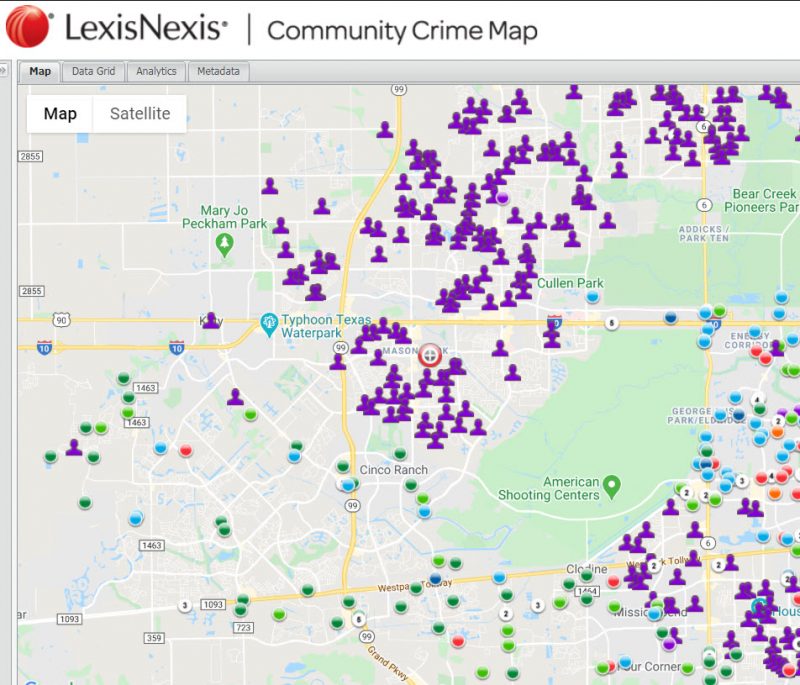 NOTE: Purple icons are registered sex offenders.
BEWARE! Most online data for crime reports in the Katy area is not accurate. Katy is divided into three counties (Harris, Fort Bend, and Waller). Some crime report sites report only on Harris county (making the side that is in Fort Bend county look virtually crime free) and other sites report only on Fort Bend county (making the Harris county side look crime free).
Being a local area expert, I think you can get a better idea of our higher crime areas by looking at sex offender map locations. Generally speaking, the more sex offenders in the area, the higher the crime rate.
See these articles for more information about how sex offenders effect real estate:
Flooding in Houston Area
NOTE: Cross Creek Ranch did not have flooding issues during Hurricane Harvey and I am not aware of any known flooding issues within this neighborhood.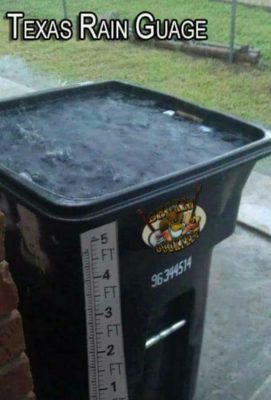 People moving to the Katy area are often concerned about Katy flood zones. The good news is that, for the most part and with few exceptions, Katy neighborhoods are located in a 500-year floodplain which means that they have 0.2 percent risk for flooding each year…less than 1/2 percent!
0.2 percent (500-year) floodplain – A 0.2 percent (500-year) floodplain is an area at risk for flooding from a bayou, creek or other waterway overflowing during a 0.2 percent (500-year) flood. Structures located in a 0.2 percent (500-year) floodplain have a minimum of a 0.2 percent chance of flooding in any given year.
Less than 8 percent of Katy homes and businesses (approximately 7,209) were flooded during Hurricane Harvey…so don't let what you see on TV give you the wrong impression…most of the homes in Katy TX do not flood on a regular basis and did not flood even during this HISTORIC hurricane. The water got high and some of the roads were flooded for a few days (mostly around Fry Rd, east of Grand Parkway), but this was an unprecedented weather event which may never occur again. 
I'm not a flood expert, weather expert, engineer, surveyor, etc…I've just lived on the Texas Gulf Coast for over 40 years and experienced many floods, hurricanes and tropical storms. Here's my opinion based on what I have experienced…
Pretty much all areas of the United States (and the world) have to deal with natural disasters. In California it's earthquakes, mudslides, and wild fires. In the Midwest it's tornadoes. In the Northeast it's winter storms and blizzards. Many parts of the country deal with flooding…especially near rivers. Other parts deal with severe droughts. The fact is, you can't completely avoid natural disasters anywhere…so you need to minimize your risk and prepare for them as best you can.
If you want to live anywhere on the Gulf Coast (Texas, Louisiana, Mississippi, Alabama, Florida) or anywhere in the Houston region, then you will need to be prepared for hurricanes and flash flooding. One thing history has shown us regarding flooding…history means nothing! Each time we experience a major flood, you will see many flooded home owners on the news saying something like, "We've lived here over 30 years and never flooded before." Last year (2019) there was a major flash flood and the new thing we heard afterwards was, "We didn't flood in Harvey, but we flooded this time."
So just because a home has never flooded before, does NOT guarantee it will not flood in the future. It just means it has a lower risk for flooding. Likewise, just because a home flooded during Hurricane Harvey, does NOT mean it will ever flood again. That was a historical storm that, most experts believe, is unlikely to occur in Katy again in our lifetime.
So, if you are buying a home in most parts of Katy Texas, then your risk for your home flooding is relatively low, especially compared to the rest of the Houston area. 
NOTE: In my definition of "flooding" I am referring to your home being infiltrated with flood/surface water. 
>> See Katy Flood Zones for maps, graphs, and more detailed information.
---
Please share this info with your Friends!

Amazing Real Estate Tools – To Improve Your Journey
  Helpful Videos by Sheila

Please forgive me when I look up a lot as I think of how to say what I want to say. I'm a Realtor, not a professional videographer! ;-D

If You Think This Website is Great, Wait 'till You Get Me As Your Agent!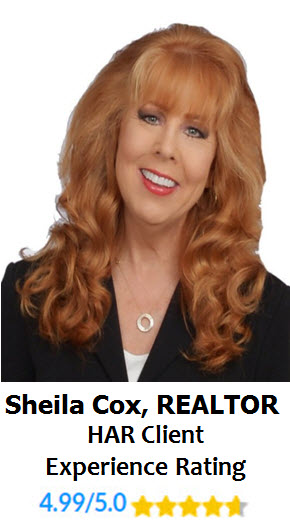 Candid Advice—I promise to give you candid advice on all homes and areas so you can make the best decisions. I won't ignore potential defects that can cost you money, or effect your resale value, in the future. My job is to protect you from defective homes as much as possible while helping you make a sound financial investment. (Read client testimonials)
Local Area Expertise—This isn't just my business…it's where I work and live (for 20 years) so I really know the area. I will help you narrow your options and find the best neighborhood for you based on your specifications. For long-term resale value, the neighborhood you choose is just as important as the home you buy. (Download my Ultimate Cross Creek Ranch Guide)
Great Data—I will give you the most in-depth data you have ever seen…to help you make the wisest decisions. This includes a professional CMA when you are ready to purchase a specific home…so you don't pay too much. Plus, my proprietary House Report (see sample) includes the data and information you need to ensure that you are making great home purchase. (Also see Pricing a Home Correctly)
Best Home Searches—Yes, you can search on your own, but no other home search available can filter down to the school level…and filter out the subdivisions that may be known to flood. Tell me exactly what you want, and I can narrow down your options better than any search you have access to. (Request a Custom Search)
Easier Process—Moving your family (and possibly changing jobs) is stressful enough. I'm your transaction manager and will guide you, step-by-step, through the process so you never miss an important deadline. I assist with inspections, repair negotiations, home warranties, HOA compliance inspections, hazard insurance, surveys, appraisals, title commitment, home warranties, title company, and more. (View helpful videos on my YouTube channel)
Network of Experts—My network of experts can make your transition to the area as smooth as possible. Need a painter, electrician, mover, insurance company, etc.? I can help! 
How I Work to Protect You
My job isn't "just" helping you find a house to buy…I'm helping you buy a home. There are over 100 tasks that I perform for you during the purchasing process. I'm looking out for you every step of the way and keeping my eye on the listing agent, the seller, the builder (if applicable), the lender, the inspector, and the title company. I'm on your side because I'm YOUR agent. I help with price analysis and negotiations, legal paperwork, inspections, repair negotiations, home warranties, HOA compliance inspections, hazard insurance, surveys, appraisals, title commitment, home warranties, and more. I have the expertise to help solve complicated problems that often occur in the process. Real estate is a huge financial and legal commitment. Don't you deserve to have a Five-Star real estate agent on your side? 
Please read:
⇒  Does My Agent Really Represent Me?
⇒  How Real Estate Commissions Are Paid
Take a look at a sample House Report that I do for my clients. This is the extra "due diligence" I do for you, to make sure that you are getting a great home. This is when I triple check taxes, schools, aerial maps, sex offenders in the area, flood zones, etc. NO other agent in the world does this! Check out p. 27 regarding the sample Flood Map info I provide.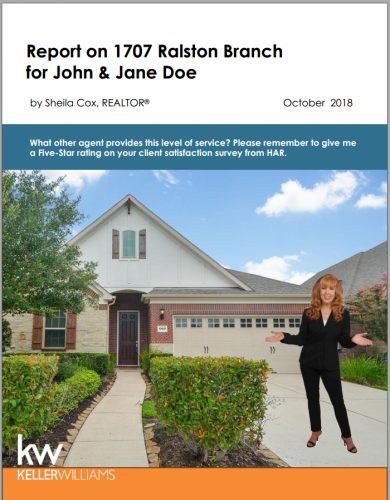 Client Reviews