The annual HOA fee, which pays for the amenities, is approximately $1300-2925 (gated, lakefront subdivisions are the higher-end). Go to the Cross Creek Ranch HOA website or call 713-981-9000 for helpful phone numbers, community documents, and utility information.
>> View Neighborhood Deed Restrictions
The assessments are due on January 1st of each year. Every owner has an obligation to pay the annual assessment. If you do not receive a statement, you must contact C.I.A. Services immediately to confirm your balance and ensure it is paid on time. You may pay on-line, and payment arrangements are available by contacting C.I.A. Services. To avoid penalties, please make arrangements by January 31st.
In addition, when a home is sold there is a Capitalization fee and a Foundation fee required at Closing.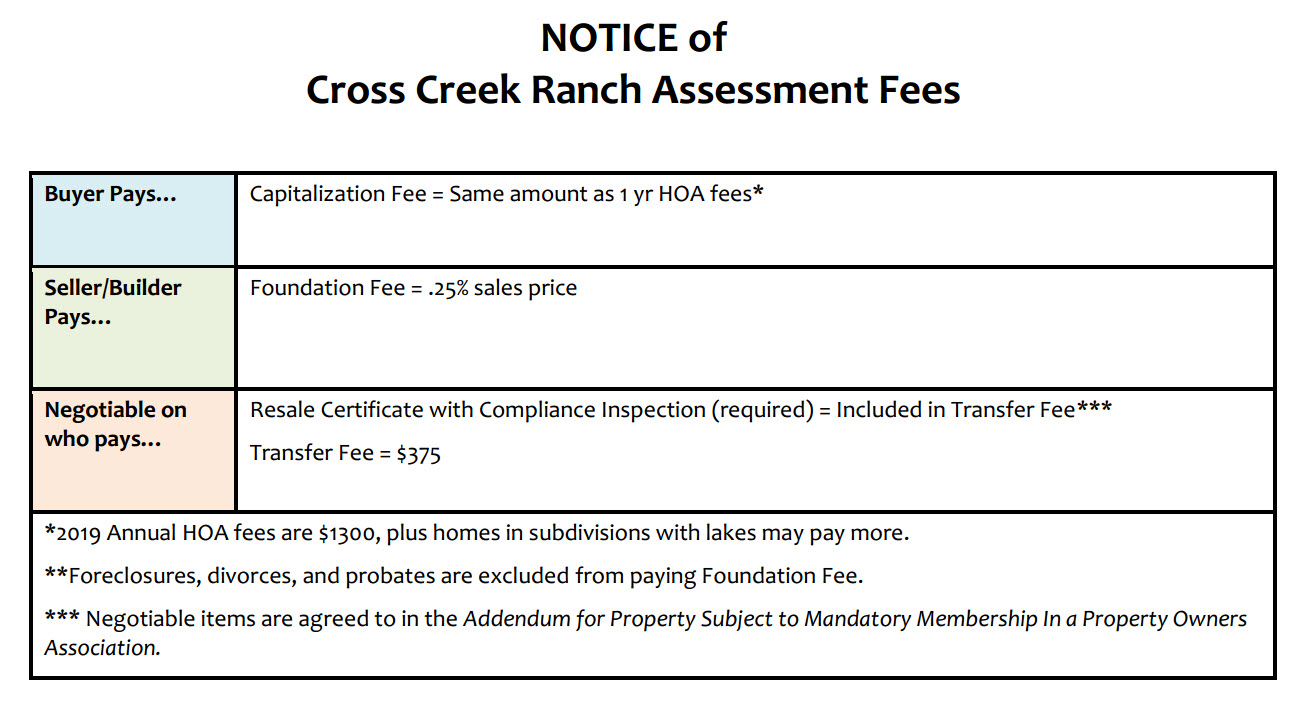 Source: Print chart with all the source docs from the deed restrictions.
About Foundation Fees
From https://www.crosscreektexas.com/foundation:
"Your Community Foundation Committee (YCFC) gives residents the comfort and pride in knowing that the unsurpassed quality they've come to expect from Johnson Development Corp. (JDC) award-winning communities will be maintained, sustained, and even enhanced throughout the years!
"YCFC is funded through foundation fees (.25%-1.00% of the sales price of the home) collected at each closing.
"As a deed covenant, each time a property is re-sold, a contribution is once again made to YCFC. Hence, as YCFC grows— so does the master-planned development. YCFC funds help create a profound sense of community, above and beyond the boundaries of a traditional community association, through the sponsorship of unique programs, activities, and enhancements in and around all JDC communities.
"One of the newest housing trends in the nation is the establishment of Community Foundation Committees which provide a unique revenue stream that makes it possible for developers like JDC to provide a higher level of services and resources in a manner less intrusive than the standard method of assessments. YCFC at Cross Creek Ranch helps to improve both the CCR development as well as the surrounding community, thereby enhancing our residents' most valuable asset — their home." – Rob Bamford, General Manager, Cross Creek Ranch
"YCFC, an appointed group of community members, works in concert with the Cross Creek Ranch Community Association by reviewing requests for funding and making recommendations of projects believed to best reflect the needs and interests of the Cross Creek Ranch community.
"YCFC funds support expenditures including, but not limited to:
Community events, clubs, groups, and sports
Health and wellness
Technology
Education
The environment
"Enhancement and/or improvement of infrastructure within Cross Creek Ranch
"While YCFC is on the vanguard, it is patterned after successful models in outstanding residential communities throughout the country including Sienna Plantation and Riverstone in Fort Bend County, Texas; Tuscan Lakes in League City, Texas; Spring Island in Beaufort, South Carolina; Summerwood in Panama City Beach, Florida; and Castle Hills in Dallas, Texas."
Children's Catastrophic Fund
From https://www.crosscreektexas.com/foundation:
"Residents of Cross Creek Ranch take pride in knowing their community supports families who are challenged with the financial stress of caring for a child with a chronic, debilitating illness, or congenital or genetic disorder. The Children's Catastrophic Fund (CCF) has been established to help ease financial pressures through grants to deserving families. The fund, supported by foundation fees, says, "We are here for you, and we care." Click here for the guidelines and application."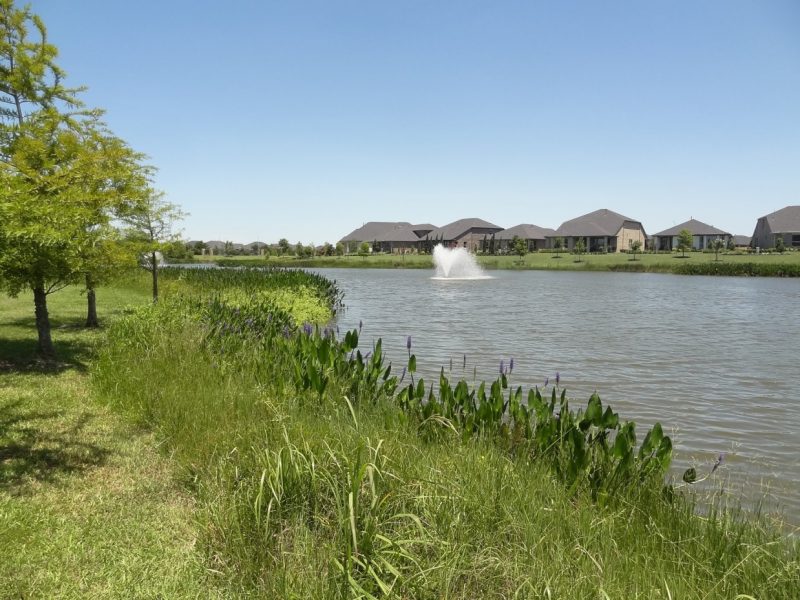 Neighborhood Map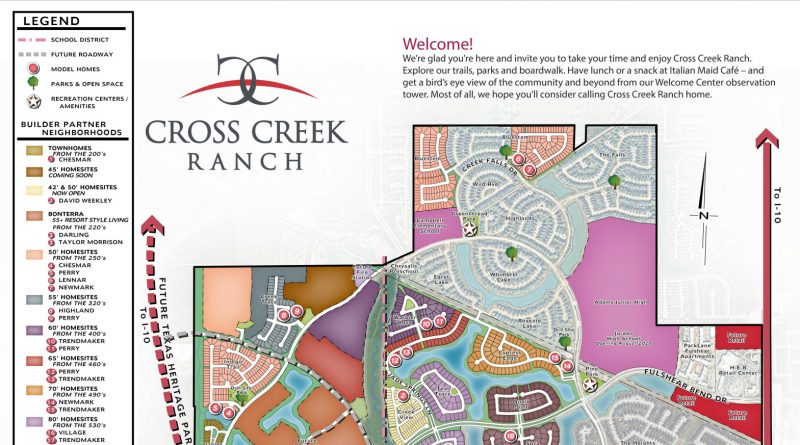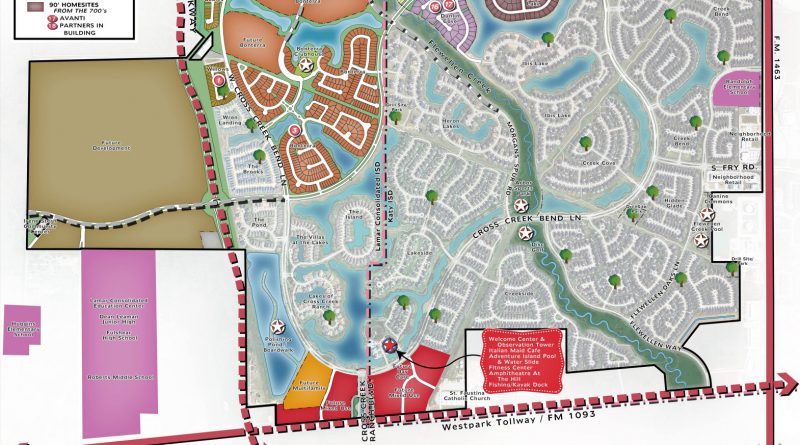 >> See Cross Creek Ranch Amenities for more detailed information.
Amenities
HOA fees pay for the Cross Creek Ranch amenities (view map):
Club House = 1
Swimming Pools = 3
Waterpark = Yes
Splash Pads = Yes
Tennis Courts = Yes
Parks/playgrounds = Multiple
Walking Trails = Yes
Lakes = Yes
Golf Course = No
Dog park = Yes
Disc park = Yes
Fishing = Catch and Release
Amphitheatre = Yes
Boating = Non-Motorized
Sports Fields = Lacrosse, soccer, baseball, basketball, volleyball
⇒ See Cross Creek Ranch Amenities for more detailed information.
Property Taxes
Unfortunately, property taxes in Texas are among the highest in the country. But before you panic, just remember that we don't have a state income tax in Texas…so one sort of offsets the other. You can read more about Texas property taxes so you are well-informed.
Property taxes in this neighborhood may vary slightly, but are approximately 3.3-3.6 as of March 2020.
One thing I like to point out though…our newer homes tend to be much more energy-efficient than our older homes; so you will save money in energy costs when you buy a newer home. That may help partially offset the higher taxes.
There are tax benefits and other benefits in owning your own home (which can make up for the high property taxes). Please read The Benefits of Home Ownership to learn more. 
To see detailed tax info on Katy subdivisions, read my Katy Property Taxes page.
Utilities
The following chart shows the utility companies that service this neighborhood.
Type

Website

Phone Number

Electric

N/A

Gas

800-752-8036

888-468-7007

Water

281-346-1796

Sewer

281-346-1796

Trash

281-346-1796

Phone

800-288-2020

Cable/Internet

800-xfinity
See more ⇒ Important Phone Numbers (a better list is in my Cross Cree Ranch Guide!)
Trash Days: WCA provides 95-gallon carts for all residents for solid waste (gray lid) and recycling (yellow lid). Collection services are provided every Wednesday between 7:00 a.m. and 5:00 p.m. All garbage must be placed on the curb by 7:00 a.m. to guarantee pick up. For more information about the carts and collection services, please refer to the trash and recycle specification sheets. 
---
Please share this info with your Friends!

Amazing Real Estate Tools – To Improve Your Journey
  Helpful Videos by Sheila

Please forgive me when I look up a lot as I think of how to say what I want to say. I'm a Realtor, not a professional videographer! ;-D

If You Think This Website is Great, Wait 'till You Get Me As Your Agent!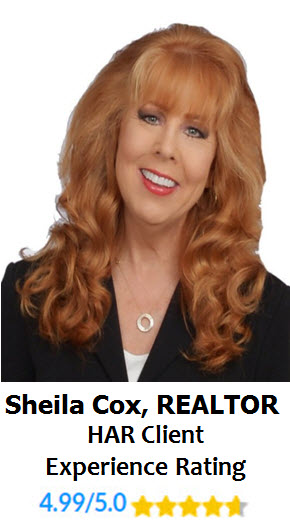 Candid Advice—I promise to give you candid advice on all homes and areas so you can make the best decisions. I won't ignore potential defects that can cost you money, or effect your resale value, in the future. My job is to protect you from defective homes as much as possible while helping you make a sound financial investment. (Read client testimonials)
Local Area Expertise—This isn't just my business…it's where I work and live (for 20 years) so I really know the area. I will help you narrow your options and find the best neighborhood for you based on your specifications. For long-term resale value, the neighborhood you choose is just as important as the home you buy. (Download my Ultimate Cross Creek Ranch Guide)
Great Data—I will give you the most in-depth data you have ever seen…to help you make the wisest decisions. This includes a professional CMA when you are ready to purchase a specific home…so you don't pay too much. Plus, my proprietary House Report (see sample) includes the data and information you need to ensure that you are making great home purchase. (Also see Pricing a Home Correctly)
Best Home Searches—Yes, you can search on your own, but no other home search available can filter down to the school level…and filter out the subdivisions that may be known to flood. Tell me exactly what you want, and I can narrow down your options better than any search you have access to. (Request a Custom Search)
Easier Process—Moving your family (and possibly changing jobs) is stressful enough. I'm your transaction manager and will guide you, step-by-step, through the process so you never miss an important deadline. I assist with inspections, repair negotiations, home warranties, HOA compliance inspections, hazard insurance, surveys, appraisals, title commitment, home warranties, title company, and more. (View helpful videos on my YouTube channel)
Network of Experts—My network of experts can make your transition to the area as smooth as possible. Need a painter, electrician, mover, insurance company, etc.? I can help! 
How I Work to Protect You
My job isn't "just" helping you find a house to buy…I'm helping you buy a home. There are over 100 tasks that I perform for you during the purchasing process. I'm looking out for you every step of the way and keeping my eye on the listing agent, the seller, the builder (if applicable), the lender, the inspector, and the title company. I'm on your side because I'm YOUR agent. I help with price analysis and negotiations, legal paperwork, inspections, repair negotiations, home warranties, HOA compliance inspections, hazard insurance, surveys, appraisals, title commitment, home warranties, and more. I have the expertise to help solve complicated problems that often occur in the process. Real estate is a huge financial and legal commitment. Don't you deserve to have a Five-Star real estate agent on your side? 
Please read:
⇒  Does My Agent Really Represent Me?
⇒  How Real Estate Commissions Are Paid
Take a look at a sample House Report that I do for my clients. This is the extra "due diligence" I do for you, to make sure that you are getting a great home. This is when I triple check taxes, schools, aerial maps, sex offenders in the area, flood zones, etc. NO other agent in the world does this! Check out p. 27 regarding the sample Flood Map info I provide.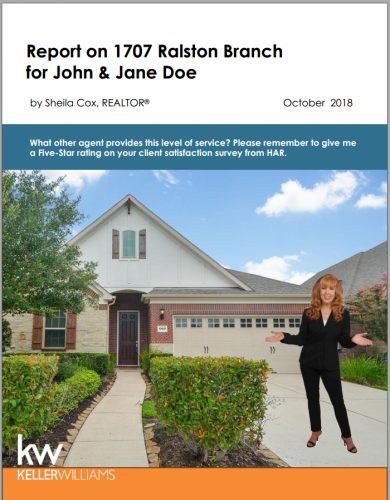 Client Reviews